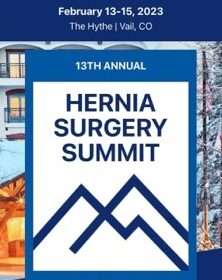 I recently had the great pleasure of attending the Hernia Surgery Summit, a conference in which World-class faculty discussed latest trends in hernia repair and established treatments with proven outcomes. It is one of the best educational events of the year, which combines excellence in hernia care, camaraderie with colleagues from around the World, and quality family time on and off the slopes. Here are a few of the highlights, as compiled by some of my hernia surgery colleagues and myself:
Recovery after hernia repair varies from individual to individual. The level of activity after surgery should be limited by the patient's pain. No set weight lifting limits or activity restrictions are necessary.
In women desiring pregnancy, alternative approaches to hernia repair should be considered, including the use of resorbable meshes.
Groin pain is a very rare complication after inguinal hernia repair and existed before mesh repairs became standard of care. If it happens, it is most likely a reflection of the surgical technique, rather than a consequence of the use of mesh. Our goal as hernia surgeons should be to reduce the risk of hernia recurrence and groin pain to less than 0.5%.
Smoking can affect abdominal wall healing. Cessation needs to happen at least 4 weeks before surgery to minimize risk of complications.
Robotic abdominal wall reconstruction techniques are becoming widespread all over the world. Adoption of these techniques should happen in a responsible manner with adequate training and mentorship, in order to maximize patient outcomes.
Over the next few months, we will continue to deliver educational content related to different types of hernias.